Shimelle's blog
for her sketch of the week post: here is the sketch I created from :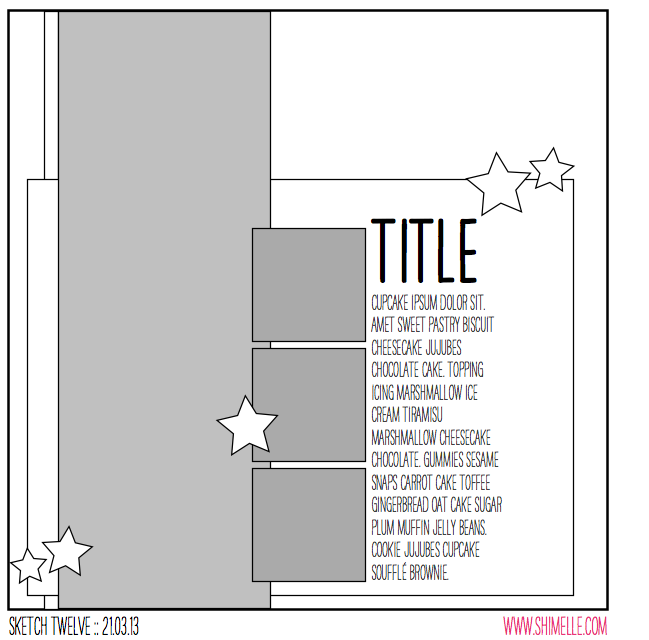 and here is my take on it:
I love this sketch because of its simple lines and multiple photos: typically my type of design!
I changed the square photos for a rectangle one and turned the sketch around into a horizontal layout: that way the vertical photos are balanced by the horizontal pieces of patterned papers.
I love the visual triangle created by the stars on the sketch: it brings balance to the page. A visual triangle is a design tactic I use often: you can find a visual triangle on my layout created by the colours?
I placed three yellow elements on my page: can you spot them? The two pieces of doily and the piece of yellow paper on the bottom left. It helps the eyes to travel on the page, from the photos to the journaling.
I also replaced the stars by some stitched elements on my page, created with the new Amy Tangerine Embroidery Stencil kits. It matches the theme of my photos: my son helping me to sew a costume for his sister.
I like to mix textures on my layouts: here and there is hand and machine stitching, rub-ons and buttons. The kraft envelope adds interest and creates a frame for the first photo. The photos are mounted on dimensional adhesive and the peg also adds depth to the overall design.
All supplies are Amy Tangerine Yes please.
oh well, I may have a crush ont his page!!...
Well! hope you are spending a great week end!
hugs
sophie
bonjour amis francophones!
hier j'étais invitée sur le blog de Shimelle, la scrappeuse british la plus connue!!:)
j'ai réalisé une page à partir du sketch que vous voyez plus haut: j'espère vous inspirer à créer votre propre page !
j'ai utilisé les papiers Amy Tan Yes Please ainsi que son kit de broderie, adorable et très facile à utiliser. Cela rappelle le thème de ma page: mon petit boy qui joue aux petites mains pour moi!
je vous souhaite un beau dimanche
soph